Last week witnessed the highest level of inflows to digital asset investment products traded on regulated exchanges worldwide since July 2022.
According to CoinShares' weekly fund report, crypto investment products experienced their highest weekly inflows since July 2022. The report revealed that total inflows reached $199 million, with Bitcoin leading the way with inflows of $187 million.
Furthermore, the total assets under management in crypto investment products reached a yearly peak, surpassing $37 billion. This milestone marks a significant recovery from the losses incurred after the bankruptcy of Three Arrows Capital, which had a major impact on the crypto market in July 2022.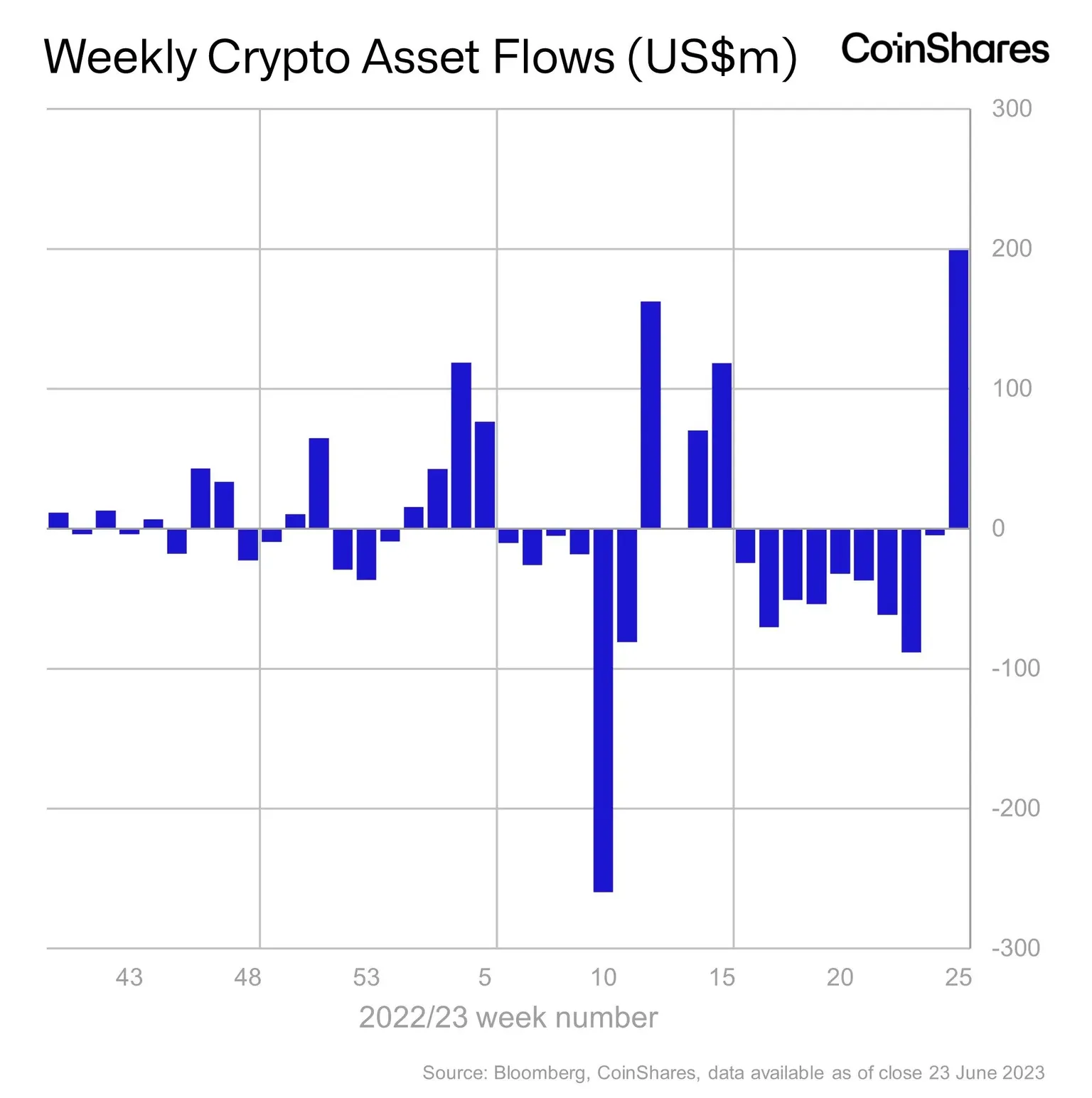 ETC Issuance GmbH's Bitcoin exchange-traded product, BTCE, based in London, experienced the highest weekly inflows with a total of $77.3 million. In the United States, ProShares' Bitcoin Strategy ETF (BITO) received the largest inflows amounting to $60.4 million. BITO, launched in October 2021, tracks the price of Bitcoin by strategically investing in CME Bitcoin Futures. With the inflows from last week, the fund's total assets under management surpassed $1 billion.
James Butterfill, an analyst at CoinShares, attributed the recent surge in positive sentiment to a series of spot Bitcoin ETF applications filed with the U.S. Securities and Exchange Commission. The market received a significant boost when BlackRock, the world's largest investment fund, submitted an ETF application on June 16. This event acted as a catalyst for the overall market sentiment.
An ETF, or exchange-traded fund, is an investment vehicle traded on an exchange that tracks the value of an underlying asset. In the case of a spot Bitcoin ETF, the underlying asset is Bitcoin itself. The pursuit of a Bitcoin ETF has been highly anticipated within the crypto community.
In terms of investment products, Ethereum (ETH) garnered inflows of $7.8 billion, surpassing Bitcoin's $187 million. Butterfill noted that this indicates a lower current appetite for Ethereum compared to Bitcoin.
However, the positive sentiment did not extend to altcoins, as only minor inflows were observed for XRP and Solana (SOL), according to Butterfill.